Taking root amidst the lush garden surrounds of the Flower Dome, Marguerite by Michael Wilson embraces the best of the seasons with tasting menus that celebrate craft, provenance and produce through contemporary cuisine. To complement the cuisine is a specially curated list of premium wines from across the world, as well as a non-alcoholic beverage program of clarified juices and fermented teas.
Ashwan Suppiah leads the front-of-house team with his personalised service that exudes warmth, ease and charm, a dining experience of true expectation.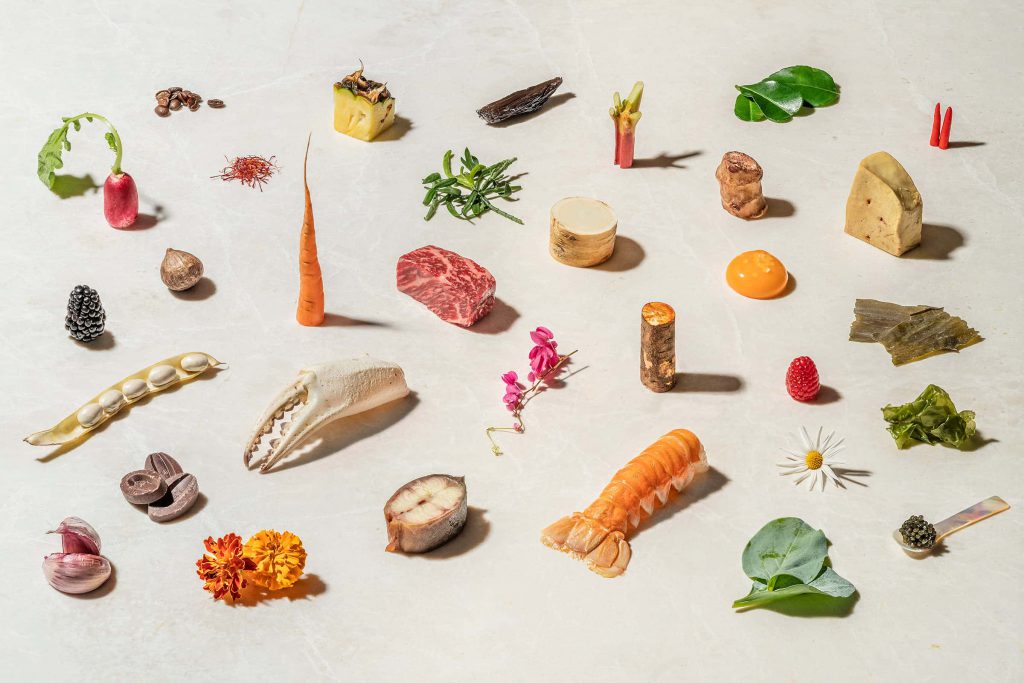 Space
Inspired by nature, Marguerite sits within a stunning garden space, bringing the outdoors, indoors. Two large sculpted and hand carved boulders take centrestage, providing a contrast to the sleek lines of handmade Scandinavian style furniture and white marble table tops that serve as a canvas for exquisite creations to come. Marguerite proudly champions craftsmanship, showcasing everything from handmade ceramics and vessels to wooden trolleys and fixtures from local and international artisans. A trio of kitchen islands placed within the dining room bring an element of culinary theatre as guests watch their food plated and prepared before them.
Private Dining
Comfortably seating up to 10 people, Marguerite's private dining space offers an alternative experience from the main restaurant. Inspired by the scenes of mountain peaks and cumulus clouds viewed through fogged screens, the space is enveloped by hues of blue, burgundy, grey and dark forest green to depict the changing mountainous range and landscape. Discover a space for intimate gathering, where friendships are forged from across the table.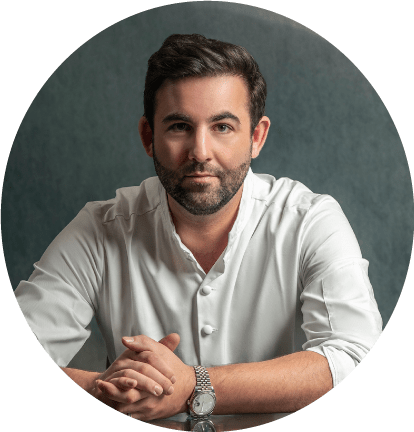 Michael Wilson, Chef Patron
Michael Wilson earned his first Michelin Star, 5 months after opening Phénix in the Puli Hotel and Spa, Shanghai. Born in Melbourne, he has worked with the legendary Guy Grossi and at the highly acclaimed Cutler & Co before his journey to Asia. Michael has since made his mark on the Singapore culinary scene, joining forces with international hospitality group Unlisted Collection to develop and conceptualise 3 exciting new brands — Mylo's, a pet friendly gelateria, Hortus, an all-day dining space celebrating Mediterranean sharing plates and Fine Dining restaurant, Marguerite.
At Marguerite, Michael employs a range of cooking techniques to extract, concentrate and intensify flavours from a host of ingredients that come together as thoughtful compositions on a plate. It is Michael's focus on produce and in showcasing the best of each ingredient he works with that dictates a distinctive brand of contemporary cuisine seen entirely through his lens.
Ashwan Suppiah, General Manager
With over 20 years in hospitality, Ashwan's expertise lies in building Michelin star worthy service teams. In addition to overseeing service for Osia and L'Atelier Joel Robuchon, he has managed Front of House teams for Table 65 and Basque Kitchen, with the latter 2 restaurants achieving their first Michelin stars within his first year of taking the helm. He joined forces with Michael Wilson in 2020 and has been instrumental in operational training and developing service procedures for Marguerite and 2 additional F&B concepts newly opened at Gardens by the Bay. Great service works hand in hand with stellar food and wine to transform an experience. For Ashwan, a General Manager is only as good as the individuals he nurtures. His priority lies in empowering his team with the knowledge to deliver an informed and exceptional level of service with ease, efficiency and most importantly, warmth.